Our communication services offer a tailored approach to effectively communicate strategies and goals of your company to internal and external stakeholders.
We strongly believe that the communication carried out by a company has to evolve with social changes and must always involve its customers, suppliers, investors and employees in the process.
Discover our services to boost the digitalization of your business
Sustainable events
We offer an integrated corporate event management and creative service to help companies improve the sustainability of their event-related activities.
From conceptualization of your event to completion, which includes managing venues, suppliers, logistics, technical support and more, we will create a unique and motivating experience for your company and guests with a sustainable approach.
According to the United Nations, "a sustainable event is one designed, organised and implemented in a way that minimises potential negative impacts and leaves a beneficial legacy for the host community and all involved."
We are creative about the delivery of event-related activities without detracting from the aim and quality of the event.
Our methodology is based on the ISO 20121 standard, which offers a responsible management system applied to the event sector as a whole.
" The challenge of organizing sustainable events is to improve the environmental performance of your events while developing a positive image and involving all your stakeholders. For companies, apart from the environmental benefits, the positives of organizing an event sustainably may include the following:
" We support you in defining the project in order to integrate the principles of sustainable development in all phases, in raising awareness among stakeholders and in the selection of suppliers. From design to evaluation, including the choice of locations, transport, stands and equipment, promotion, catering and waste management. Events have the power to show sustainability in action. Inspiring your clients, investors and employees. Leading by example.

Responsible Communication
We help companies define and implement a responsible communication strategy. Responsible communication is more sensitive to ecological issues, and considers both the content of the messages and the way in which these messages are delivered.
A responsible communication strategy differs from a classical communication strategy since it has more do with being proactive, value based and long term oriented.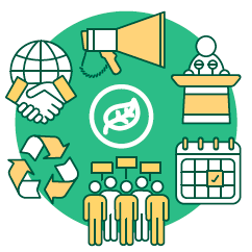 Responsible communication includes:



1

Communication on the challenges and organization's commitments in terms of sustainable development and Corporate Social Responsibility (CSR): environmental and social impacts, governance, cultural diversity, working conditions, consideration of disability needs, etc.



2

"Green" communication, which aims to reduce the impacts associated with marketing communication tools: consumption of natural resources, use of harmful or dangerous products, production of waste, pollution linked to manufacturing, transport and use, etc.



3

The authenticity of the messages, the transparency of the communication processes, the respect for stakeholders as well as the role of communication in promoting a vision of society.



Discover the benefits of implementing a responsible communication strategy through our services